We held the 12th annual picnic and pie festival at my house just over a week ago.  (The tradition started the summer after my first year at the College, when one of the summer research students explained that, while she liked to bake pies, she didn't really like to eat pies.  Dr. Lindner explained that he was the ideal complement — he liked to eat pies, but not to bake pies! The pie festival was born!)
The pie festival is wonderful especially because of the participation of the students. Many start the summer daunted by the prospect of producing a pie, but by the time the pie festival rolls around, they rise to the challenge!  The rule of the pie party is that everyone brings a pie.  (Families are allowed to bring one pie for the family, and Dr. Lindner has a pass.)  I think our all time largest pie party had 15 pies for 17 people!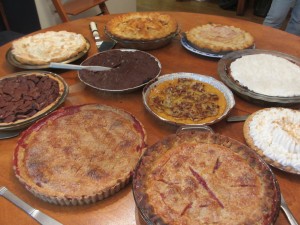 This year we had 10 pies for 12 adults (and 4 young kids). Delicious!  Pies included lemon meringue, peach, apple, pina colada, chocolate pecan, gooseberry, and one of the richest pies I've ever tasted – dark chocolate caramel Oreo!   At least three people managed to take at least a thin slice of all the pies (and also eat part of each slice!)!
I was a little worried about the weather earlier in the day — it rained most of the morning, but cleared up so that we could eat outside by 5 pm.  The weather did put a damper on our traditional games of badminton and croquet, but we played games inside instead.