Whew!  So much happened here in April, I'm just barely catching my breath now!
We had two great outreach events early in April.  The second weekend of April was the Expanding Your Horizons event, with a variety of science workshops for 5th & 6th grade girls.  This is a massive event, coordinating presenters from all over the Wooster community — not just the College. This year we were quite surprised to be having the event with 3 inches of snow!   In physics, we've been doing a workshop on The Humpty Dumpty Experience, which is an egg drop challenge.  Egg drops have gotten really popular, so a lot of girls have a little experience with the project.  Apparently peanut butter is the new concept in egg drop.  This year, all the girls wanted to know if they could have a jar of peanut butter.  Nope — you can have 8 popsicle sticks, 6 cotton balls, some paperboard, some string, some newspaper, 8″ of duct tape, and a plastic bag.  Even with these limits, most teams were successful in keeping their egg safe, and their eggs were retired to the Egg Hall of Fame.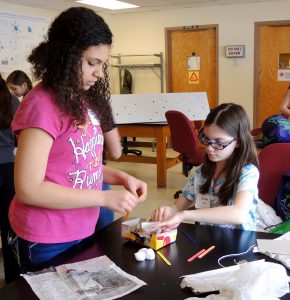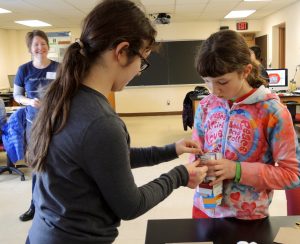 We dropped the eggs from one of the upper windows of Taylor, which worked really well.  The most amazing thing was that the wind caught  the very first egg holder that I dropped, and it went up instead of down!  We actually lost it on the roof — it never came down!
The very next weekend we held the 8th annual Science Day!  This is a student-run outreach event for the whole local community.
Physics Club coordinates with all the other Wooster science clubs and fills Taylor Hall with demonstrations — liquid nitrogen, comets, tie-dye milk, glowing pickles, DNA made from red licorice twists, erupting volcanos and sheep brains!