Dream a Little Dream of Physics – Fulfilling a Dream at the World's Largest Meeting of Physicists
          I don't dream small. Ever since I was a young girl, I dreamed of a bright, big future for myself. Framed on my desk at school is a picture I drew from the prompt "A scientist is…" in the first grade. First grade Justine completed the sentence by saying "A scientist is a girl." The accompanying picture is of a brightly colored, femininely dressed redhead – myself. Still today, that little girl lives inside me, filled with a burning love of science.
Walking into the convention center on my first day, I immediately felt energized and excited. I had never been around so many physicists in my entire life. Last year I attended our region's CUWiP conference, but there had only been a couple hundred young women in attendance and most were undergraduate students. In Baltimore, though, there were thousands of physicists and very few were undergraduates. Scientists from around the world in varying subfields had come together for a week to discuss the strides each had made in condensed matter physics.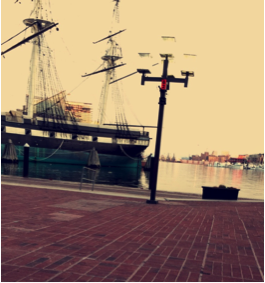 My first day was overwhelming, but also amazing. I went to so many talks that I thought my mind would explode with new knowledge. I will admit a lot of it was over my head, but I loved every second of it. The next two days at the conference brought similar experiences. There were a few sessions on physics education and robotics, though, which I really loved and understood. The talks about physics education were particularly eye opening. Other institutions' ideas for increasing student interest in physics course and increasing the general public's interest as well through outreach programs were fascinating. One of the coolest programs was led by an institution which had hosted, and was planning on hosting another, multi-day workshop for science fiction writers to learn about advanced physics topics. The effect a workshop like this could have on how the general public views science is immeasurable.
In addition to addition to attending many interesting talks, I did a few other fun things at the conference. The coolest thing was presenting my summer research poster during one of the poster sessions. Not many undergraduates have such an amazing and rewarding experience. For most of the session my research partner, Avi, and I presented and answered questions about our summer research. Though I was nervous before the session, I ended up having a lot of fun. I talked to some people that I had met the previous day at the graduate school fair and the first poster session. I feel blessed to have been given the opportunity to present my research at such an early stage in my physics career.
| | |
| --- | --- |
|   | |
Later that same day I went to a couple of great social events hosted by the conference. The first was a diversity networking session. Surprisingly, I was more nervous about this than my poster session! At first, I was keeping to myself in a corner, not really sure how to do the whole networking thing. Eventually two kind souls made their way over and the three of us had a really awesome chat. I continued speaking with one of them after a speech from the organizers and Dr. Lehman joined us. At the end of the conversation, the man I was speaking with gave me his card and the name of someone was looking for a summer researcher. Even though I already accepted a position for the summer, I was ecstatic. It was honestly one of the craziest moments of my life. I told him I already had a position, but he and Dr. Lehman agreed there's always next summer!
After the networking session, Dr. Lehman and I went to the Rock 'n' Roll Physics Sing-Along where we heard such gems as I'm a LIGO Believer (set to the tune of I'm a Believer) and I Will Derive (set to the tune of I Will Survive). Honestly, I have never seen something so beautiful and nerdy in my entire life. If kids were shown this event and could see how silly and fun physicists can be, we would have a lot more physicists in the world.
Being able to attend the APS March Meeting was definitely one of the best opportunities I have had since coming to Wooster, a school that already offers so much. I had a fantastic time being caught up on some of the hot topics in physics, such as LIGO's discovery, and meeting so many fantastic people. My main take home from this conference is short and simple – physics is awesome.